Built in the eighteenth century underwent several phases of expansion in the early nineteenth century, it was finally restored between 2002 and 2006 resulting in the current construction.
At the gates of the house you can enjoy the construction of a hórreo with four bays and ten feet, in addition to the portal access to the yard of great historical and architectural flavor.
In the courtyard and as access to the house, a small skate and a winery eighteenth century. It has a beautiful garden and a large grove with an area of 55.000 m2 of land of great biological diversity with centennial trees that dominate the Ria de Vigo. All this will make you enjoy in Larache and will have a pleasant and unforgettable stay.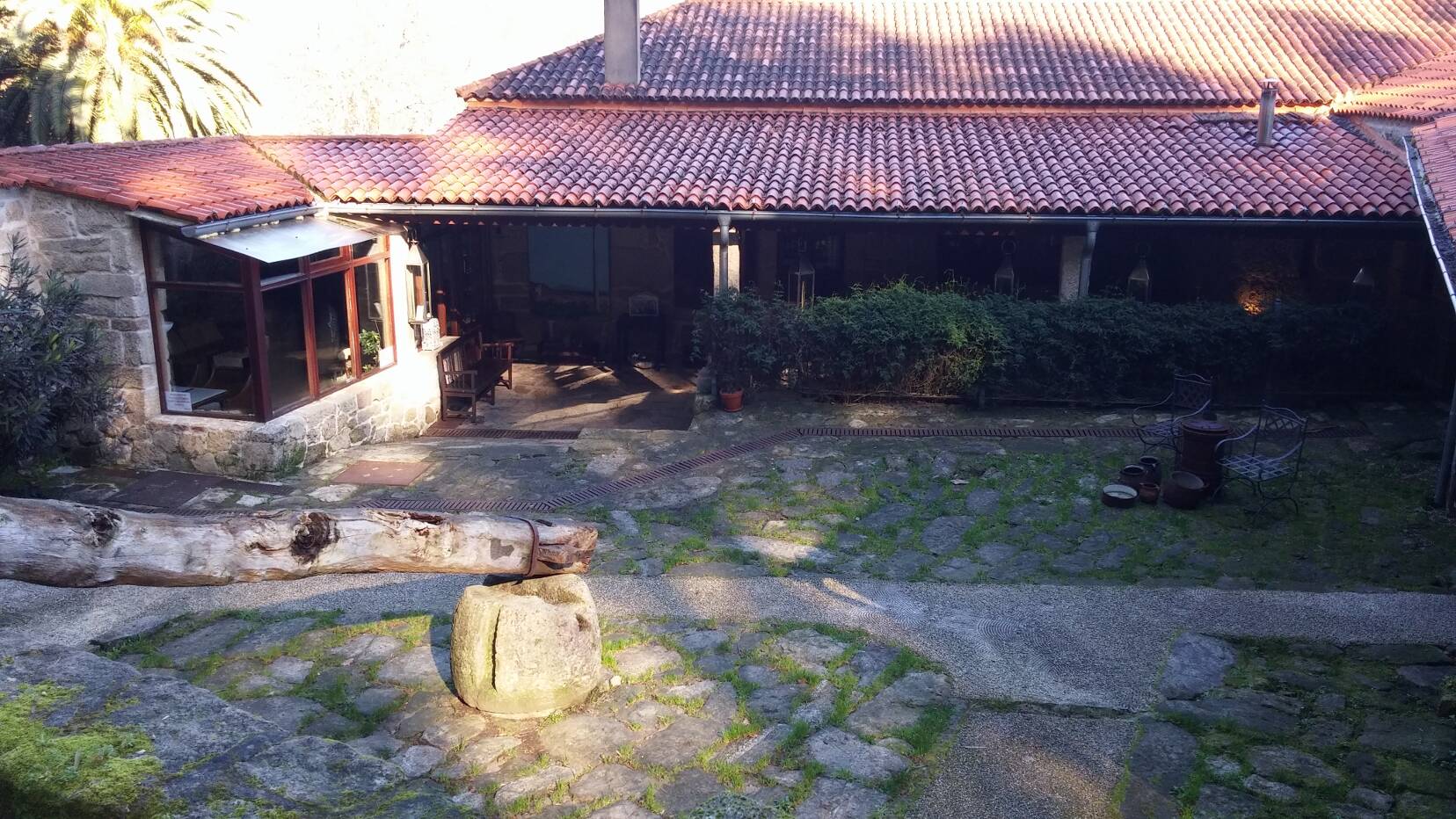 Services and features
Internet Access (Wifi Zone)
Barbecue
Bar cofee shop
Heating
Dinning room
Baby cot
Breakfast
Historic building
Disabled access
Smoke free
Garden-terrace
Parking
Pool
Reading room
Cards allowed (Visa …)
Room cleaning service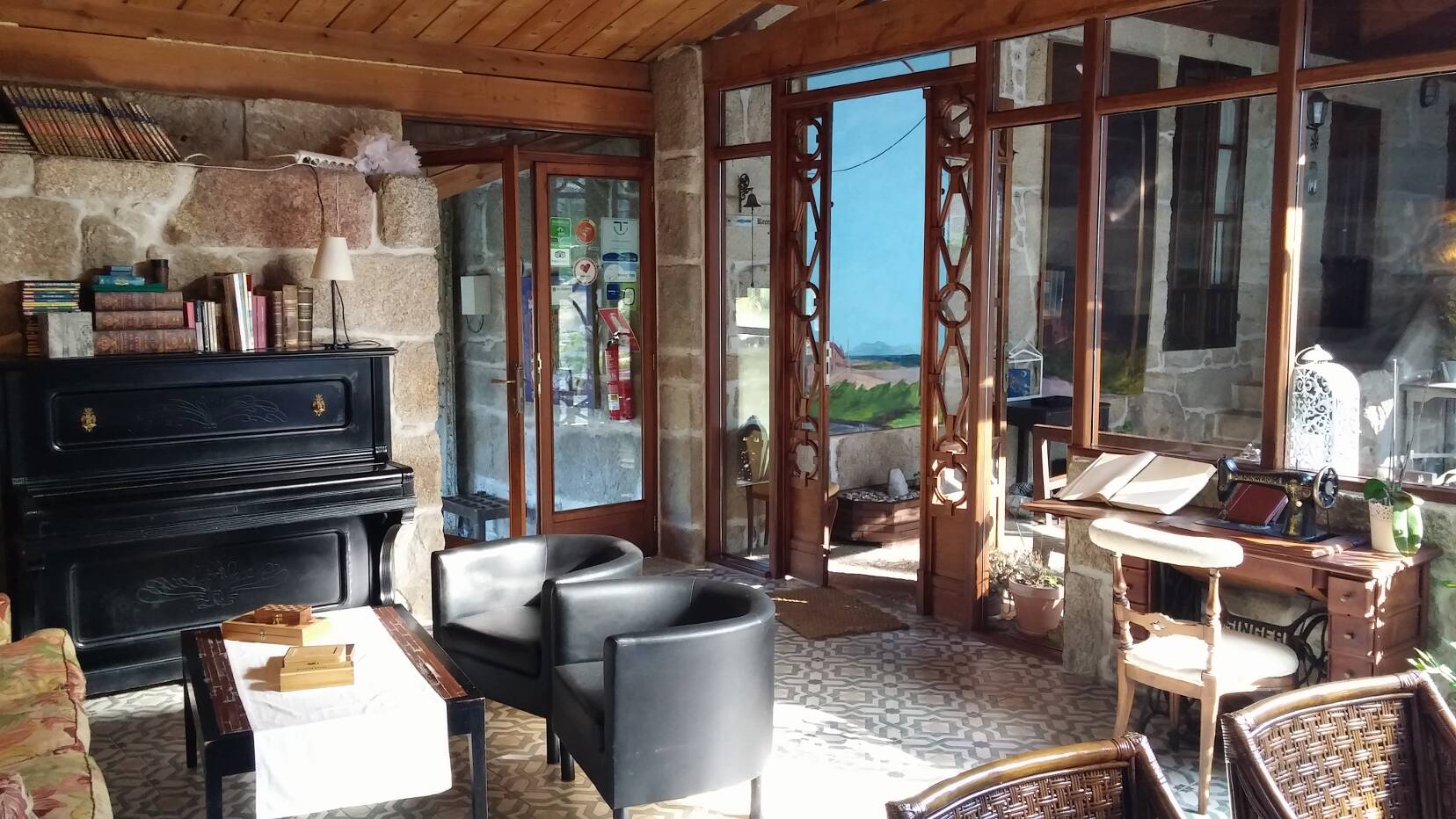 Near the estuary of Vigo and very close to the cities of Pontevedra and Vigo being able to visit:
Vilaboa: Hórreo of San Adrián, Castle of Ubeiras, Salinas of Ullóo, Cove of San Simón, Place of Coto Redondo y Castiñeiras Lake whose surroundings has been declared protected natural area.
Pontevedra: its old town with his old monuments like Basílica of Santa María, Pilgrim Chapel, Ruins of Santo Domingo, Church of San Bartolomé and squares like Herrería, Leña and Verdura.
Vigo: Berbés old town, Colegiata-Concatedral, Market of La Piedra, National Park of Atlnatic Islands (Islas Cíes, Ons, Sálvora y Cortegada).
Morrazo Peninsula (between to estuaries), its towns of Cangas, Moaña, Marín and Bueu.
In fromt of the estuary is the town of Arcade, famous for its exquisite oysters accompanied by a good Albariño wine.
In Larache and its surroundings you can do different sports and cultural activities such as:
Bird watching
Water sports (windsurfing, sailing, boating)
Golf
Horse trips
Fishing
Beach
Trekking
Visits to picturesque sites and beautiful landscapes.
SANTA CRISTINA DE COBRES – VILABOA (Pontevedra)
Located on the banks of the Vigo estuary, 12 km. from Vigo and 13 km. from Pontevedra.
From Vigo via the AP-9 towards Pontevedra at exit 146 Moaña-Cangas to take the N-554 Vilaboa-Pontevedra to the parish of Santa Cristina de Cobres in Vilaboa municipality.
From Pontevedra via the AP-9 towards Vigo at exit 137 to access the N-550 Redondela-Vigo and take the N-554 Vilaboa-Cangas.
GPS coordenates: 42º 20′ 2.16″ N, 8º 38′ 32.56″ W