Room Van Gogh
Special Double Room
Bathroom with tub cabin
Heating
Baby cot (optional)
Smoke free
Phone
TV
Wi-Fi (Internet access)
| | |
| --- | --- |
| Season | Price |
| Low | 54,90 € |
| Mid | 59,90 € |
| High | 84,90 € |
| Special | 94,90 € |
Vincent van Gogh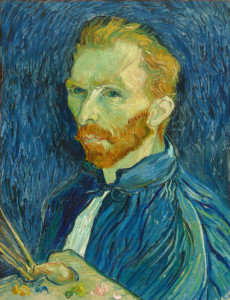 Vincent Willem van Gogh (30 March 1853 – 29 July 1890) was a Dutch post-Impressionist painter whose work had far-reaching influence on 20th-century art. His output includes portraits, self portraits, landscapes, still lifes, olive trees and cypresses, wheat fields and sunflowers.
Critics largely ignored his work until after his presumed suicide in 1890. His short life, expressive and spontaneous use of vivid colours, broad oil brushstrokes and emotive subject matter, mean he is recognisable both in the modern public imagination as the quintessential misunderstood genius.
Van Gogh was born to religious upper middle class parents. He was driven as an adult by a strong sense of purpose, but was also thoughtful and intellectual; he was equally aware of modernist currents in art, music and literature. He was well travelled and spent several years in his 20s working for a firm of art dealers in The Hague, London and Paris, after which he taught in England at Isleworth and Ramsgate.
He drew as a child, but spent years drifting in ill health and solitude, and did not paint until his late twenties. Most of his best-known works were completed during the last two years of his life. Deeply religious as a younger man, he worked from 1879 as a missionary in a mining region in Belgium where he sketched people from the local community.